September 14, 2009 -- 0 comments
Lake pymatuning camp adventure
If we drop a pebble in the water, the reaction moves outward in a widening circle, creating a different reality (even if its just for a moment in time) for the pebble and the water. You are that pebble. What type of reality are you creating for yourself, and for others?
Friday evening we left for Andover, Ohio to go camping with our friends Colleen and Louis at Lake Pymatuning. Its a huge lake surrounded by beautiful woods and a really nice campground where we stayed. I hadn't slept in a tent since 2002 and it was Aiden's first time ever sleeping anywhere that wasn't his own room. Needless to say we didn't get a whole lot of sleep Friday night to Saturday morning.
Its so beautiful though, waking up early out in the woods in the chilly air. Its something that I have been craving for a while.
We got up close and personal with nature and a giant catfish and traveled across the Pennsylvania border to a spot where we could feed the ducks, geese and some humongous carp. The carp all swarmed the front right below the walkway but the geese and ducks stayed back a little bit. I made sure I threw my bread-pieces far enough so that the geese and ducks could get them. They looked hungry too but had more dignity than to not demean themselves for food. [Lulz]
Then we went down to the fish hatchery, learned all about how the Walleye are bred in to in lake Pymatuning and saw a huge friendly catfish that seemed very curious about us.
The dignified waterfowl.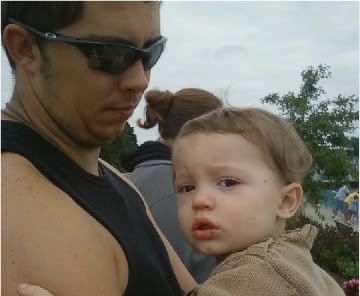 My two guys lookin' cool.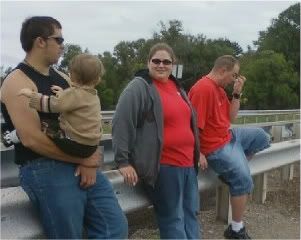 Our group minus me.
Us in front of the majestic Lake.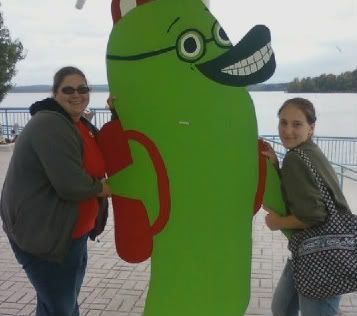 Me and Colleen are gonna run away with this guy. I'm aware of the fact that I look pretty hit in these pictures.
This might have gotten the camping bug out of my system for a while, until next year anyway.
Don't forget to subscribe to the comments so you can know if someone replied to you.